Established Date: October 20, 2012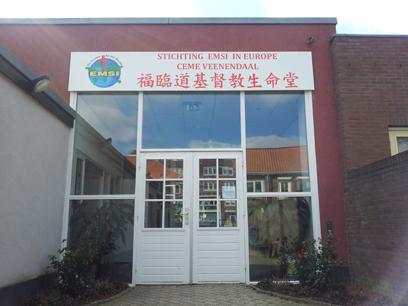 We started Bible study classes twice a month in September, 2009 at Petra Kerk for church members in Veenendaal. They lived or owned business in Veenendaal. They were not able to come to CEC in Utrecht regularly.
There were many Chinese who live or run restaurants in Veenendaal and neighboring towns. Many of these families are with two or three children. It was too far for these children to come to the youth fellowship of CEC in Utrecht even we invited them. So we started youth fellowship in September, 2011 for children in the area.
There are street fairs in Veenendaal every Sunday. Chinese from neighboring towns come to buy groceries. We met many Chinese from neighboring towns. It occurred to us if it is Lord's will, we would start a small church in Veenendaal. We started looking for a meeting place after we had consensus with coworkers.
A coworker, Brother Chung, searched through internet and found a house for sale at a decent price. It covers 540 square meters, with usable floor area of 287 square meters. One could sit 80 persons in the sanctuary. In addition, there were an auditorium of 60 square meters, and an apartment of four rooms. It was close to the center of town, and was easily accessible. We believed God had provided this building for us, and decided to purchase it. At the time of economic downturn, we thank our Lord and praise Him that brothers and sisters did not neglect God's work and were giving willingly, and generously, that we had more than enough. Our Father in heaven has provided more than we asked. It is just like what is said in the Bible:"This is the LORD's doing; it is marvelous in our eyes".
The closing of the church building at Veenendaal was held on Oct. 11, 2012. CEM Bishop Pastor Moses Yang with a team of pastors came to the Netherlands. He presided over the church dedication on Oct. 20, 2012. CEC in Veenendaal became the 11th church of CEM in The Netherlands. May heavenly blessings come abundantly to this place.