Established Date: December 25, 2002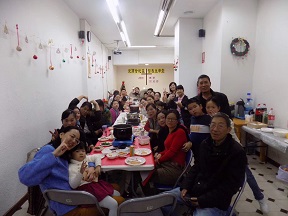 The Ministries of Benidorm and Alicante began about the same time in May 1997. With God's leading, Benodorm was the first established. Because the driving time between Benidorm to Alicante is 40 minutes, Alicante Brothers and Sisters came to Benidorm to worship.
After 5 years, the CEC in Alicante in Christmas of 2002 was established. In 2005 February, an apartment in the center of Alicante behind the bus stations was leased for living and worship. Evangelist Li Suxin was sent from the Paris Seminary School in MAY to the CEC in Alicante to establish the missionary work for the Church for CEC in Alicante.
In 2005 September, Evangelist Li Suxin became ill and went to China for treatment. During this time, Evangelist Pan Saopin began to minister temporarily. Evangelist Lai Zuquan continued to minister the Church till January 2006. Evangelist Li Suxin returned but returned to China in the beginning of July 2006 for treatment. Subsequently, Evangelist Lai Zuquan resume the responsibilities of the Church again.