Established Date: May 10, 1985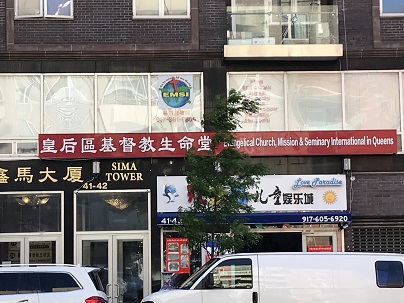 Since 1985, the CEC in Queens (official name, Evangelical Church Mission and Seminary International in Queens) had been led by 7 pastors in the past. At the present, Rev. Moses Lin is shepherding this church.
It has been through numerous difficulties and it relocated many times. Yet, because of the unselfish participation, involvements, and joint efforts of the members, many unbelievers have come to the church. Members mostly come from Asian regions (Philippines, Taiwan, Indonesia, Malaysia, Hong Kong, and Mainland China …)
Every Sunday morning, the church has Sunday Service, Children Sunday School, and Basic Doctrine Class. The church also hosts Sisters and Brothers Fellowship every other week. There is a Family Worship on Wednesdays, prayer meeting on Thursdays, and Mandarin Bible Studies every Friday.Consequently, special services are provided to celebrate various events.
Praise the Lord that through Bible Studies, prayer meetings and different services, brothers and sisters are motivated to love and serve the Lord, and also to build a closer relationship within the spiritual family.
Praise the Lord. He guided the CEC in Queens all the way. He strengthened brothers' and sisters' spiritual growth and we experienced God's wonderful blessings. May God use us and we give all the glory to God!