Established Date: September 22, 1985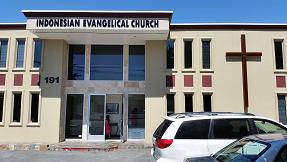 C.E.C. in San Jose was officially established on September 22, 1985, under the need and request of fellow Indonesians and the support of E.M.S.I.
When the church was first formed, the attendance was in the teens. As the church ministry expanded, God continually added to our congregation with new Christians. As the number of attendants increased, our meeting place had relocated. In these 24 years, we have been renting churches for our services. But in November 1990, we moved into our first newly purchased church building. But in the last ten years, due to the increase in Sunday Worship Service and Sunday school attendance, we didn't have sufficient space for ministry. Therefore, in the last few years, we had to use the Government sponsored Senior Citizens place for our Wednesday Prayer Meeting and Friday Youth Group. We also used another church and their classrooms for our Sunday Service and activities. Facing these difficulties, we continually prayed that God may be gracious to us, granting us a bigger church to expand His ministry. Right now, we are in the process of looking for a more suitable place to purchase and that we have our own church building and expand His ministry.
We have expanded our church ministries to mission, discipleship, evangelism, caring and Laymen's Institute. The brothers and sisters actively participate and are very supportive. Every year we could see that the Lord has given us new believers. Not only do we have Indonesian Worship Service, but started the English Service too.
Thanks and praises to the Lord! For the past 24 years, God's wondrous working is clearly manifested in the church, leading many to salvation, and growing spiritually with steadfastness. Just as the Bible says, "Now unto him that is able to do exceeding abundantly above all that we ask or think, according to the power that worketh in us, Unto him be glory in the church by Christ Jesus throughout all ages, world without end. Amen." (Ephesians 3:20-21).