Established Date: August 3, 2008
"Serve the Lord with fear, and rejoice with trembling" (Psalm 2:11)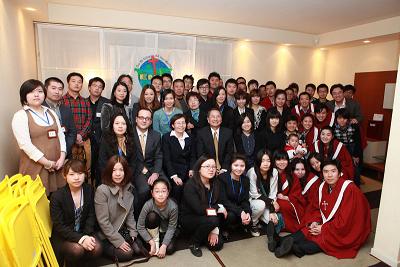 In late March, 2007, Rev. Moses Yang brought Rev. Hosea Chi and Rev. Jian Wei Ye to Italy for a five-day exploration trip. Afterward, they decided to send Ev. Grace Zheng to start the pioneering work in Milan.
In June, 2008, Rev. Moses Yang, Rev. Zion Wu, Rev. Hosea Chi and Ev. Grace Zheng met up in Milan. They rented a car from the airport to look for a place where they could gather for worship and a place for Ev. Grace Zheng to live. The three pastors spent three days in Milan. The night before their departure, God provided us with a convenient place for worship, which was more than what we could ask or expect. On August 3, 2008, the first Sunday Worship Service was held.
In April, 2010, Rev. Yang decided to look for a larger place in order to expand the ministry. We thanked the Lord that Ev. Zheng found a Roman Catholic Church. In November, 2011, the Milanese government approved our use of the lower floor of the Roman Catholic church as our meeting place for free. This place has a seating capacity of 200 people; and is merely a five-minute walk from our mission house. Again God has prepared for us a place beyond what we can ask or expect.
When EMSI reaches its 50th anniversary, our church would have had a ten- year journey! Italy has the most number of Chinese churches in Europe. May the Lord strengthen us as we stand fast in the truth. May the Lord add to the number of people who get saved in our church.