Established Date: June 17, 2008
"Serve the Lord with fear, and rejoice with trembling" (Psalm 2:11)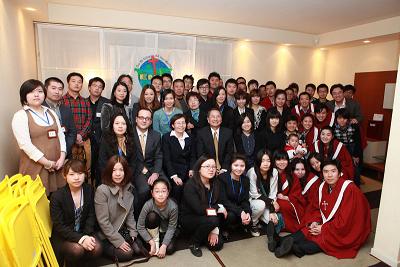 Thank God! CEM in Milan started its first worship on August 3rd, 2008. During the 6 months CEC Milanperiod, there were 36 people who accepted Jesus as their Savior, and 20 people were baptized at our church. The past experience of CEM in Milan can best be said in the Bible verse: "This is the Lord's doing; it is marvelous in our eyes" (Psalm 118:23).
Leading: One day in April 2007, I got an early phone call at 6:00am from Rev. Moses Yang –the president of EMSI. He said, "I am in Italy now. There are lots of Chinese here, lots of northern Chinese here. We would like to assign you to serve in Italy." I felt peaceful the moment I heard it. I answered him in a simple sentence: "If it's God's will, I will obey it. Please pray for me." Thank God! After continual praying and with the help of the pastor from Spain, I did not have any problems with the application process. God was doing His wonderful work with me. In mid June 2008, Rev. Moses Yang, Rev. Zion Wu, Rev. Hosea Chi and I met in Milan for 3 days. With the assistance of a local Chinese sister, we searched street by street for a real estate agent and/or suitable house. Just one night prior to the pastors' departure, the Lord prepared a worship place far better than what we had asked for or imagined. Recalling all these things now, I understand it is the vision that God gave to Rev. Yang concerning the gospel work needed in Milan. There was the calling from Macedonia.
Thanksgiving: Thank God! He raised many brothers, sisters and families who truly love God in CEC in Milan. As a result, the gospel work can be increased and expanded. He moved the brothers and sisters to have hearts that seek truth from the Bible and to admire the Lord's words. He touched many brothers and sisters to be willing to devote themselves to participate in church and partner in spreading the gospel. All pastors, brothers and sisters support us by praying hard and providing financial help so we can fully experience the grace of the Lord.
Counting the Lord's grace, I cannot express my praises and thanksgivings to God in words. "What shall I render unto the Lord for all his benefits toward me? I will take the cup of salvation, and call upon the name of the Lord" (Psalm 116:12-13).
- Ev. Grace Zheng