Established Date: October 21, 1999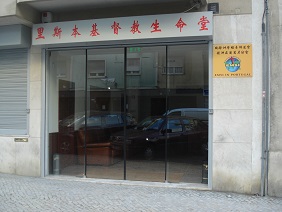 The Portuguese church, CEC in Lisbon, was founded on October 21, 1999 by Rev. Moses Yang.
In July, 1999 Evangelist Yueing Chen was serving in Valencia, Spain. He received acall from his sister Xiao Li Chen. She told him that Lisbon urgently needed the Gospel. After many prayers and discussions with the CEM headquarters in North America, brothers from CEM in the United States and him went to visit the Christians in Lisbon and have an appreciation the need of the gospel there.Evangelist Chen was then transferred to Lisbon in September for starting a church/ministry there with the support of CEC Europe. There were a number of loving Christian families participated in the ministry. A sister in Lord then offered her restaurant as a meeting place. On October 3rd, 1999, the first worship service was held. Later on October 21st, Rev. Yang and Rev. Chi went to formally establish the CEC in Lisbon, followed by visitation of Rev. and Mrs. Chan on November 14th to initiate the first co-workers meeting. On December 5th, Sunday Worship was moved to the rented church in Lisbon.