Established Date: January 2015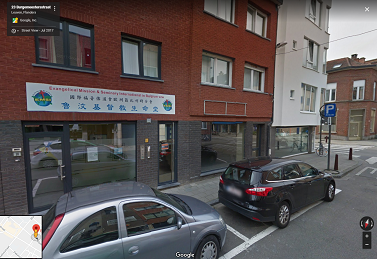 In 2010, a couple who loved the Lord came to visit Rev. Mix Chan. The wife was a Ph.D. student at the University of Leuven, who was about to graduate and would go back to Hong Kong. They were leading a student fellowship group and hoped that Rev. Chan would take over their responsibility. However, Rev. Chan and his wife were serving three CEC congregations already and had no more time to take over the fellowship. So he declined their request.
Rev. Chan had led some Chinese families from Leuven to Christ in the last few years. After they became believers, they attended the CEC in Antwerp. This means that they had to drive a long distance to attend to all kinds of services every week. They had to rush back to their restaurant or company after the service and often they got speeding tickets. Pastor was deeply moved and he often prayed for Leuven, hoping one day to start a CEC over there.
At the end of 2014, a young couple finally came to Belgium and join our team to serve the Lord full time. So the CEC in Leuven was officially established on March 15, 2015. In the beginning we rented a small apartment of 100 square meters. There was a room for worship with seating capacity of 20 people and two rooms for Sunday school classes. The rent was €1,500.00 per month.
The space became too small after nine months. We had to find another location. Leuven is a university town. The University of Leuven is a prestigious one and ranked as a high ranking university in Europe. It has a student population of 57,000 and there are many professors, researchers, managers and technical staff. So most of the buildings in the city and around have become their residence. University of Leuven continues to expand. Finding a larger, more suitable location for the congregation is far from easy.
But we firmly believe that God is Jehovah Jireh, for nothing is impossible with Him! One day, the pastor's wife Anny found online that a former motorbikes store was for rent. She called immediately for an appointment to visit the location. Later it turned out that we were the first ones on the list of people who have called the landlord for appointment. As we visited the location, there were different people waiting outside. The space was twice bigger than our first location, but the back end of the store needed a lot of renovation. We really did not know where to start. Pastor Chan and his wife put aside the challenge of the renovation and decided to rent this location. Otherwise, this opportunity would go to someone else. Thanks be to the Lord! The landlord was willing to meet us for the second time and without asking for any financial guarantee.
When the landlord met us again, he instructed Pastor Chan on how to renovate the location and then he gave some very good suggestions. Finally, when the total renovation budget came up, Pastor Chan and his wife did not know how to answer. The landlord saw our hesitation and came with a surprising proposal. He said: "If you have difficulties to finance the renovation plan, I can help you to renovate and you will pay it back in installments." The final decision was €1,400 per month - plus repayment of the renovation cost of €600. Pastor Chan could not believe what he heard, it was amazing! We never thought of meeting such a nice landlord. Lord, You are'Jehovah-Jireh', and You let us experience your faithfulness and wonder once again.
As it is written: "This is the Lord's doing, and it is marvelous in our eyes" (Mark 12:11)